Dispensaries posting on Instagram, listen up! We're about to share with you a few little-known secrets that could save your business from being shadow-banned on Instagram. And trust me, you don't want to get shadow-banned. It's not fun.
Let's first talk about…
What is shadow-banning on Instagram?
Basically, shadow-banning is when Instagram limits the visibility of your account or posts, making them virtually invisible to other users. This can be a huge blow to your business, as it significantly reduces your reach and engagement.
It's incredibly aggravating to work hard on developing an Instagram following only to have your posts suddenly disappear.
Shadow-banning is also a technique used by Instagram for letting spammers continue to spam without being detected by the community.
To be put even more simply, being shadow-banned on Instagram:
Occurs when Instagram deems your content or account inappropriate.
Doesn't mean that you'll be notified.
Will result in significantly less engagement.
Could hinder your ability to grow a following.
Could risk your current following (relying on content).
May even result in your account being… banned (yes we said it).
How does it work?
While dispensaries posting on Instagram might not specifically be shadow-banned, the algorithm is most likely the culprit hiding their posts. The algorithm penalizes content that Instagram considers "inappropriate," even if it doesn't violate the app's Community Guidelines.
What is Instagram's policy on the sale of marijuana?
Instagram's cannabis restrictions aren't necessarily about the law. The Community Guidelines and algorithms are in place to make sure that users consistently:
"Share only photos and videos that you've taken or have the right to share."
"Post photos and videos that are appropriate for a diverse audience."
"Foster meaningful and genuine interactions."
"Follow the law."
"Respect other members of the Instagram community."
"Maintain our supportive environment by not glorifying self-injury."
"Be thoughtful when posting newsworthy events."
How this relates to cannabis you ask? Well, Instagram is actually pretty tight-lipped when it comes to its cannabis policy. The short version is that you can't post photos of illegal drugs, and cannabis is still illegal in many parts of the world. However, there are some notable exceptions. For example, cannabis expos and dispensaries are often allowed to promote their events and products on Instagram, as long as they follow the platform's guidelines.
Now, we can tell you…
How dispensaries posting on Instagram can avoid getting shadow-banned
With a lot of risk comes a lot of reward. If you're able to create a following on Instagram utilizing some of these expert pointers, you'll have a limitless direct-to-consumer digital platform in your pocket.
For the dispensaries posting on Instagram, make sure to…
Always abide by the Terms of Service.
Absolutely do not use direct message (or DM) for the sale of cannabis and/or CBD products.
We hate to say it, but… yes, avoid posting pictures of cannabis itself.
Follow and observe power cannabis users (what they share and how they do it). [Read our blog about "How to Use Cannabis Social Media Influencers to Market Your Dispensary"]
Focus on education.
Share what makes your dispensary unique!
Don't post links or copied text all the time.
If you're not sure whether the material is appropriate, don't post it.
Don't use banned hashtags (#cannabis, #cannabiscommunity, #weed, etc.)
Last but certainly not least, treat others with kindness and respect.
Acceptable examples of dispensaries posting on Instagram
The Instagram algorithm is constantly changing, and what works today might not work tomorrow. The amount of followers your dispensary has doesn't dictate how likely you are from getting shadow-banned either. However, if you focus on creating quality content that educates and informs your audience, you'll likely be in good shape. Here are a couple examples of dispensaries posting on Instagram with content likely to not result in a shadow-ban.
First up we have, Captain Jacks in San Bernardo, CA
According to a Leafly post from March 2022, Captain Jacks is the number one best dispensary in California, with over 6,000 Instagram followers. They make their page's mission clear in their Instagram biography, which reads: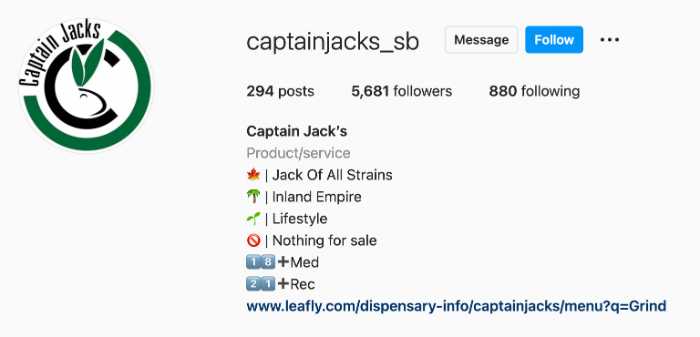 Here is an example of one of their posts that follows Instagram's Community Guidelines:
Also ranking relatively 'high' (see what we did there) on the list of top dispensaries in California, The Heart of Humboldt follows the same setup regarding their Instagram biography: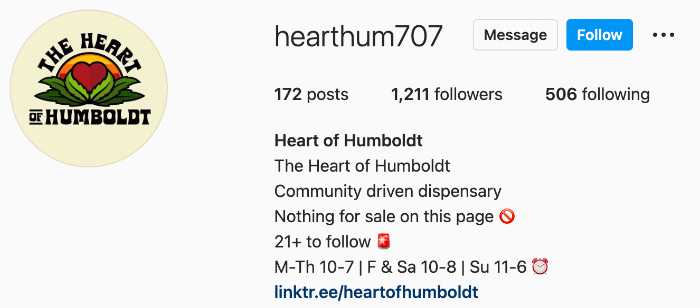 Sensing a pattern yet?
Here is an example of one of their feed posts:
Our final example is none-the-less, Serra Downtown in Portland, OR
Backed with a pretty heft following of 11,000 users, Serra is obviously doing something right. Their biography veers from the setup of our first two examples, but still contains necessary information that Instagram would like to know:
Here is one of their posts approved by Instagram:
The bottom line…
Shadow-banning on Instagram can be a real pain in the neck for dispensaries. But with a few simple changes to your posting strategy, you can avoid this fate and keep your business thriving. So what are you waiting for? Do what we would do and start following our tips, and watch your engagement soar!
Furthermore
Whether you're looking for a fresh new website, SEO (search engine optimization), social media management, or just someone to talk to about this whole "cannabis thing", contact us here at WeedBoost today! We're always ready to talk.